NUA 2017: NUA Hits Nottingham!
November 2017
With a spring in my step on a cold Friday afternoon, the time came to pack my bags and head off back to the city of my university days for NUSCR's stab at NUA.

Having loaded my car with supplies for the weekend (beer) I headed up to Beeston where we transported a shed load of food over to All Saints Church in Radford. Having stocked the church for the throng of drunk ringers due in the next few hours, NUSCR master Vic and I headed into town.

With the army of northern ringers formed in The Roebuck Inn, we wolfed down some food and plenty of beer before NUSCR led the way to St Mary's for the evening's ringing. The bells sounded wonderful as usual, but the evening wasn't without a bit of drama, as former NUSCR master Emily Hall had a slip up with the tenor, causing her fingers to suffer some damage! Bravely, she soldiered on for the entire evening, and after a good session of all things bobs, singles and call changes, it was time to head to the Organ Grinder for many more beers.

NUSCR led the way once again, with two splinter groups (one led by me) which were so keen to race each other there, ringers were left scattered across the city centre! With many more beers under our belts and with the last few late comers crammed into the small pub, we eventually staggered over to All Saints, where we bedded down between pews in the church - a first for NUA if I'm not mistaken.

The evening wound down with our master getting into a fit of giggling so strong she had to be taken to a quiet corner to calm down for about 15 minutes, before we finally turned in.

We were woken in the morning by the church cleaner, who got a bit of a shock finding many sleeping and coloured caterpillars on his church floor!

We headed over to Beeston for our morning's striking competition and some welldeserved spoons breakfasts. Fuelled up, we took the tram into the centre of Nottingham to cram into St Peters, even spilling out onto the roof for some panoramic views.

The party then jumped onto the tram to go all the way out to Hucknall, for some delightful later-afternoon ringing on some delightful bells.

The main party then headed to Basford, at which point Vic and I broke off to head to Beeston and ship the stacks of sandwiches and nibbles over to Mansfield Road Baptist Church for our energetic ceilidh, hosted by the Nottingham Ceilidh Club.

The night had buckets of sweat, stacks of food and drink and some long lines of dancing pairs and wild baskets.

After a quick beer pit stop at the local Tesco, we raced back to All Saints for the annual boat race. This year's was a little quieter than usual, many spectators were packed into the yard, yelling support in whispered tones so not to wake the neighbours. Leeds once again emerged victorious (personally, I think they take it far too seriously), but thanks to a sublime Guinness downing effort from Daniel, NUSCR were very far from last this year.

The next morning, we made it upstairs to ring All Saints' service in, before venturing back to the Roebuck for more breakfasts. Ten ringers rang a very nice quarter of Grandsire Caters at All Saints, which marked the end of a fabulous weekend. The ringers, battered beyond belief, staggered to the train station, or to their respective homes.

All in all, it was a hectic, busy but thoroughly successful NUA, with NUSCR showing how you balance the beer, the banter and the bells.


Report by Ellis Whitehouse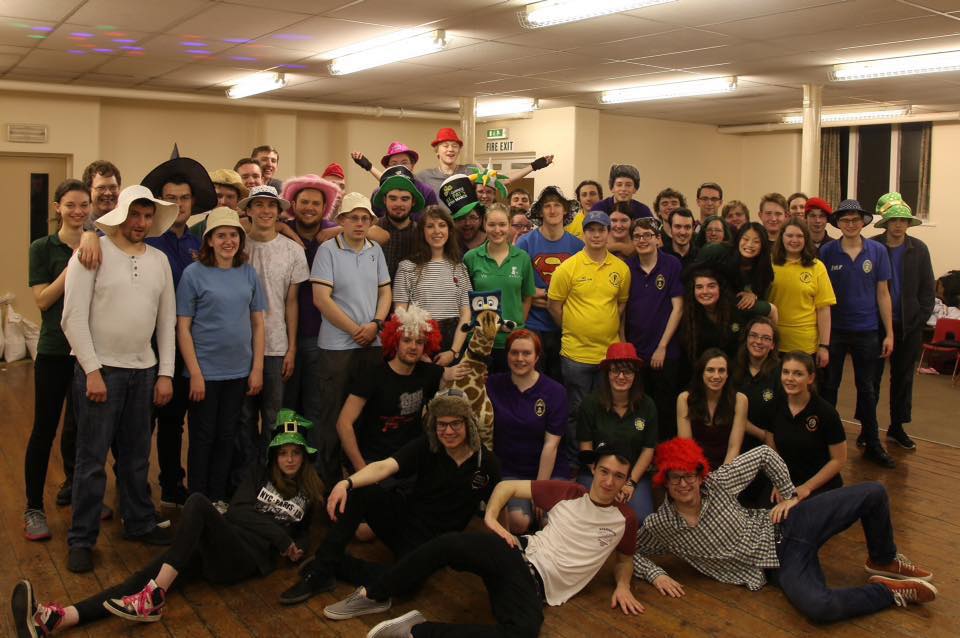 Back to Reports